This Independence Day, let DrySign Digital Signatures Set You free!

This Independence Day, let DrySign Digital Signatures Set You free!
The increasing use of online platforms for everything from shopping for groceries to booking flights has made digitalization a norm rather than an exception. It is now rare to find a business that does not use a minimum of 2 to 3 digital solutions to grow and maintain its enterprise. More and more companies are finding ways to go paperless, reduce costs and make their employees and teams more productive. One such solution gaining massive momentum is electronic or digital signatures.
The conventional way of signing a document is to print it, sign it, scan it back to your device for storage, and finally email it. This entire workflow is almost orthodox and extremely time-consuming. It also leads to a high volume of paper waste and other resources. Not to mention the unnecessary costs related to these workflows as well as the risk of signature forging and manipulation.
Gartner suggests that 3% of business revenue is spent on paper-related activities, and 50% of all office waste is paper.
What is a Digital Signature?
A digital signature is essentially a digital fingerprint. It's a coded message that securely associates a signer with a document and ensures its authenticity. A digital signature also indicates the intent of a person to accept the contents of a document. This basically means that the signatory cannot deny having signed the document at a later date as the digital signature is unique to the document and the signing party.
Digital signatures can be used with any kind of document or message by the receiver to ensure the identity of the sender and that the message was received untouched.
Are electronic signatures and digital signatures the same?
An electronic signature is a legal concept. Digital signatures, on the other hand, refer to the encryption/decryption technology on which an electronic signature solution is constructed. In other words, an electronic signature is used to prove who signed, what was signed, and the intent and content of the signatory. Whereas a digital signature supports electronic signatures to secure data and detect tampering.
DrySign eSignatures
Introducing, DrySign, a secure, easy-to-use electronic signature solution designed to help users sign, send, and share documents from anywhere, anytime, from any device at the most affordable prices. Let us take a quick look at how DrySign electronic signatures benefit a business:
What DrySign brings to your company?
80% Faster TATs:
A usual document workflow from creation to storage takes more than 6-7 business days. When using DrySign, right from creating the document on the platform, signing it or getting it signed, and sending it to the receiver takes a total of 30 to 40 minutes, saving you, your team, and your clients, hours of running around and waiting.
50% Cost Savings
A document workflow has several hidden costs that are often overlooked. Costs for paper, printing, stationery, postage, etc., are the more obvious costs. Some of the more surreptitious costs include penalties due to errors or fraud. We must also account for shipping costs, admin fees, infrastructure costs for storage, etc. With DrySign, you can save up to 50% on hidden as well as apparent costs and improve your business ROI.
100% Flexibility
With DrySign eSignatures all you need is a device and an internet connection to send, receive, sign, and store documents. This means you have the freedom to be location-agnostic and more mobile, making all your digital document workflows more convenient than ever before.
---
Jagat Singh, AVP - HR
Plan: Business Plan
"I travel a lot for work and my team sits in India. Even though they were able to close new hires in the required time, signing off on hiring documents was delayed if I was not available. DrySign completely solved this problem for us. Now I can sign online, with a quick click. My team can even send me reminders in case I forget."
---
100% Paperless Offices
By virtue, an eSignature platform is more sustainable than the traditional way of signing documents, i.e., putting pen to paper. With DrySign, you can avoid cutting over 160 trees in a year, depending on your paper usage. That in itself will put you in the category of a sustainable business. The wastage you avoid by cutting paper out of your processes makes it a double win.
90% Error and Risk-free
The use of eSignatures in your workflow can help you reduce up to 92% of scanning errors. It can also help reduce missing and lost files by over 65%. Moreover, eSignature platforms like DrySign secure your documents with product features such as multi-factor authentication, password-protected documents, and real-time mail trails along with compliance with the IT Act 2000 and certification from eMudhra, an established Certifying Authority in India.
100% Enhanced Experience
DrySign is a user-friendly platform that has a unique, easy-to-navigate dashboard that gives users a comprehensive view of all the documents that need to be signed, are pending, and those that are completed and stored. Adopting DrySign eSignatures to complete contracts and agreements with your clients and vendors can instantly enhance their experience and leave a mark.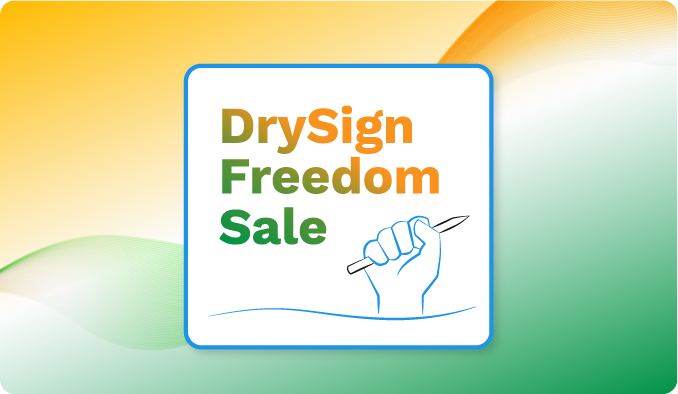 DrySign Independence Day Offer
This Independence Day, DrySign brings its first-ever Freedom Sale Offer. This offer attempts to bring more visibility to businesses across India and spread awareness about the benefits of using eSignatures in daily workflows. By making the document signing process end-to-end digital, DrySign empowers businesses to instantly pave the way for simplified, paperless workflows. Besides being an environmentally sustainable solution, it helps save time, effort, and costs associated with traditional paper-based workflows.
In this offer, users have to pay only 75% of the actual cost on ANY DrySign PLAN. Currently, DrySign offers 4 Annual plans in addition to its Free Version: Individual, Professional, Business and the most popular – DrySign Corporate Plan. This offer lasts only till 31st August. Here is a quick look at some Top Features that our users love.
Top Features:
Legally binding Digital Signatures
DrySign is compliant with the IT Act, 2000, and is certified by eMudhra, a licensed Certifying Authority (CA).
eKYC Video Verification
DrySign allows you to sign with eKYC via Video Verification or proceed via your Aadhar-linked mobile number. In either case, your document will be certified by eMudhra, a licensed Certifying Authority under the Information Technology Act of India since 2008.
Group Sign
You can forget about sending multiple documents to each signatory. With this handy feature, invite multiple signatories to sign documents online in just one click.
Sleek Dashboard
Get bird's-eye views of your digital signing history along with status tracking options and document overview.
Real-Time Mail Trails
DrySign allows you to track and verify your document status with solid time stamps and real-time mail trails. This means that you never lose track of a document you are working on.
Notifications & Reminders
You can set up reminders and receive real-time notifications keeping you updated at all times, even when you are on the move.
Cloud Storage
You can easily save your documents on DrySign and access them whenever you need. No more losing your mind over a lost paper document.
Industry-wise top Use Cases:
Retail:
The retail sector primarily revolves around customer service, and digitizing processes streamline operations and enhance efficiency, ultimately resulting in improved customer experience. DrySign helps retailers reduce the time associated with administrative tasks while minimizing paper consumption and storage requirements. With DrySign's cloud storage, retailers can reduce the costs of storing and maintaining piles of documents. It reduces the turnaround time required to draft documents and get signatures, allowing retailers to focus on their key goal of providing customer satisfaction.
Use Cases:
Supplier forms
Concession documents
Contracts
Credit agreements
Employment contracts
Finance:
With an ever-evolving market, there's tremendous pressure on financial institutions and banks to provide security against frauds and financial wrongdoings. Using paper-based processes is not only archaic but also extremely risky. Processes like opening a DMAT account, KYC, and new customer enrollment can be streamlined using DrySign.
Use Cases:
New customer enrollment
Account opening/closure
KYC forms
Loan applications
Mortgage documentation
Investment documents
Audit preparation
Debit/Credit card applications
Healthcare:
The healthcare industry is fast-paced and dynamic, where providing the very best service is not an option but a necessity! Providing high-quality care requires healthcare providers to have their paperwork in order. With DrySign, healthcare professionals can speed up patient admissions and payments, and have all documents stored online for easy access. Our legally binding e-signatures are IT Act, 2000-compliant and come with an eMudhra certification so that healthcare organizations can provide the necessary care without being worried about legality.
Use Cases:
Admission/Discharge forms
Patient documentation
Medical bill payments
Payment of medical bills
Insurance processing
Consent forms
External vendor contract signing
Contract management
Medical procedure approvals
Education:
In today's age, especially in the post-pandemic world order, more and more people expect document processes that can be actioned remotely at their convenience, and this is even more apparent in the case of students. With an electronic signature platform, schools and universities across India can relieve their staff by automating enrollment processes and making academic forms and documents available online so that they can focus on their primary objective – educating. DrySign helps institutions improve efficiency, sustainability, security, customer service, and overall communication.
Use Cases:
Board agreements
Student application processes
Scholarship documents
Transfer requests
School leaving certificates
Transcript signing
Student loan applications
Teacher reports
ID forms
Progress reports
Insurance:
Customers expect convenience, ease of communication, and a complete digital experience, and a digital signature platform does just that. DrySign not only digitizes operations but also automates them, giving consumers the liberty to sign and manage documents as per their comfort. With DrySign, insurers and policyholders can rely on a legally binding solution, compliant with the IT Act, 2000 and certified by eMudhra, a licensed Certifying Authority.
Use Cases:
Insurance applications
Claims processing
Cancellations
Beneficiary change requests
Premium payments
Coverage renewals
Financial contracts
Signing contracts/agreements
Disclosures
Electronic signatures have helped businesses and individuals alike to speed up and simplify their operations for almost 30 years now. Today, e-signature software offers a broad range of benefits and features, much more than just the convenience of online signing. Gone are the days when paperwork meant hard copies, prints, and folders. By automating document workflows across departments such as HR, sales, manufacturing, etc., it has been proven that regardless of your industry or business size, e-signatures can altogether eliminate paper-laden bottlenecks, improve Turn-Around-Times, and achieve your aim of being a sustainable business.
DrySign's Independence Day offer called the Freedom Sale can be the first step in launching your business into the digital foray. With prices slashed by 25% in celebration of India's 76th Independence Day, this is an opportunity that should not be missed! Go Digital with DrySign!
DISCLAIMER: The information on this site is for general information purposes only and is not intended to serve as legal advice. Laws governing the subject matter may change quickly, and Exela cannot guarantee that all the information on this site is current or correct. Should you have specific legal questions about any of the information on this site, you should consult with a licensed attorney in your area.
Found this interesting? Share on your socials to let others know: